Press Release: Bounteous Recognized in Research Report, "The Future Of Work Requires A Better Collaboration Model"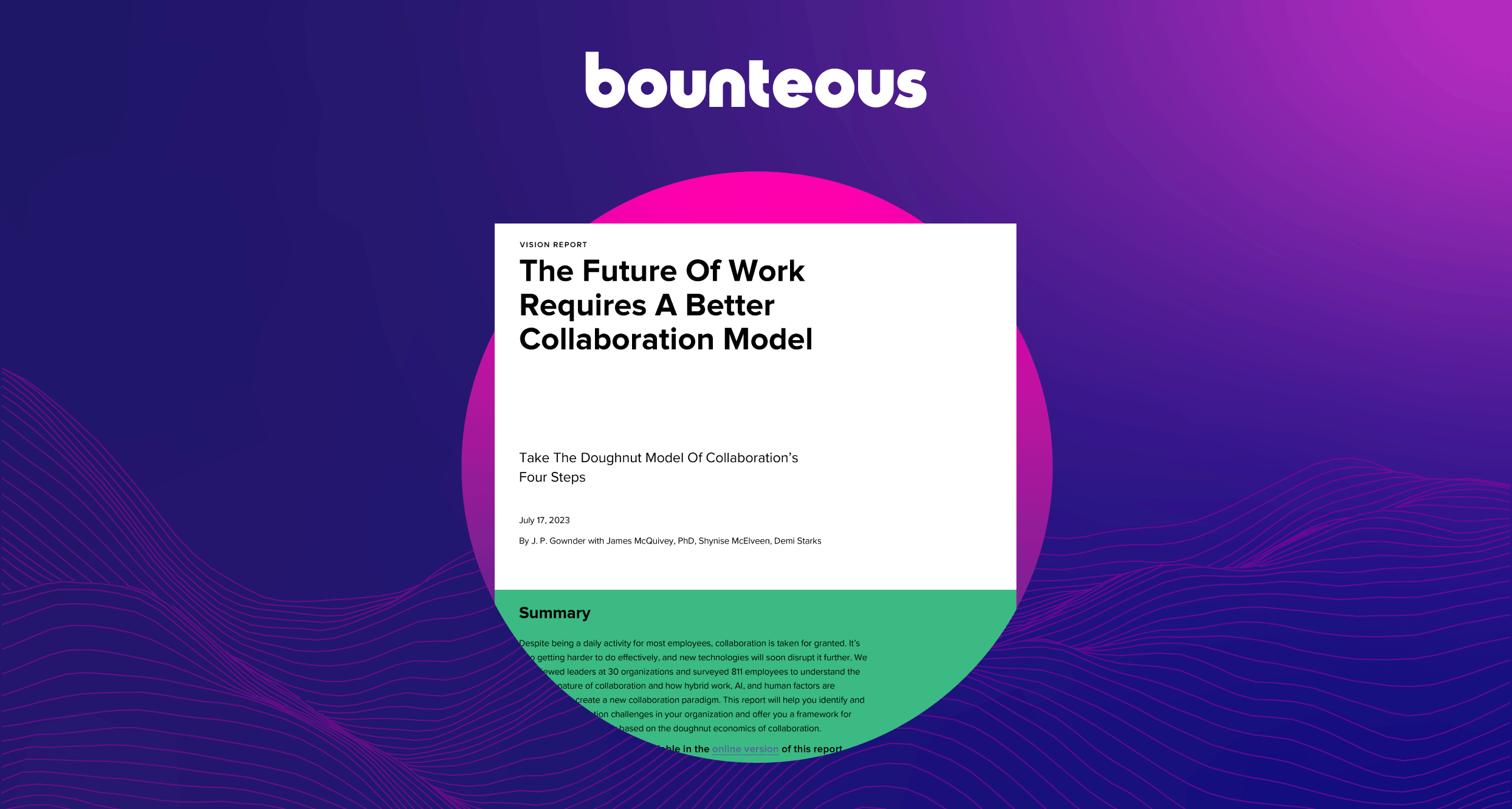 CHICAGO — July 25, 2023 — Bounteous, the digital innovation partner of the world's most ambitious brands, was recently included in a Forrester Research report titled, "The Future Of Work Requires A Better Collaboration Model." The report serves as a valuable tool for organizations, enabling them to more effectively identify and diagnose collaboration challenges while building a stronger and more successful collaboration strategy.
While collaboration remains a daily activity for most employees, it is often overlooked and taken for granted. Based on interviews with leaders at 30 organizations and surveys of 811 employees, the research highlights the importance of collaboration and the effect hybrid work, AI, and human factors will have in shaping new forms of collaboration.
Keith Schwartz, co-founder and CEO of Bounteous, was quoted in the section "Mastering Collaboration Unlocks Business Superpowers," emphasizing that encouraging conflicting ideas is healthy for collaboration. "Fostering this requires an empowered and relatively flat or nonhierarchical organization and culture," Schwartz said. "It's essential to seek and adopt the best ideas regardless of where they originated — it can be bottom-up or side to side and not just top-down."
As businesses navigate return-to-office, remote, and hybrid working styles, fostering collaboration should be a central priority.. Bounteous firmly believes in the power of cultivating psychological safety and fostering a cohesive culture. These fundamental values enable the company to bring forth diverse ideas and translate them into valuable innovations.
"I enjoyed my conversation with JP Gowdner at Forrester on this important topic." said Schwartz. "At Bounteous, collaboration has always been a cornerstone of our business philosophy, and we take immense pride in our steadfast commitment to fostering a collaborative culture."
The report is available online to Forrester customers or for purchase here.
About Bounteous
Founded in 2003 in Chicago, Bounteous is a leading digital experience consultancy that co-innovates with the world's most ambitious brands to create transformative digital experiences. With services in Strategy, Experience Design, Technology, Analytics and Insight, and Marketing, Bounteous elevates brand experiences and drives superior client outcomes. For more information, please visit www.bounteous.com.
For more information about Co-Innovation, download the Co-Innovation Manifesto at co-innovation.com.
For the most up-to-date news, follow Bounteous on Twitter, LinkedIn, Facebook, and Instagram.