Press Release: Bounteous Recognized in Research Report, "The Total Commerce Experience"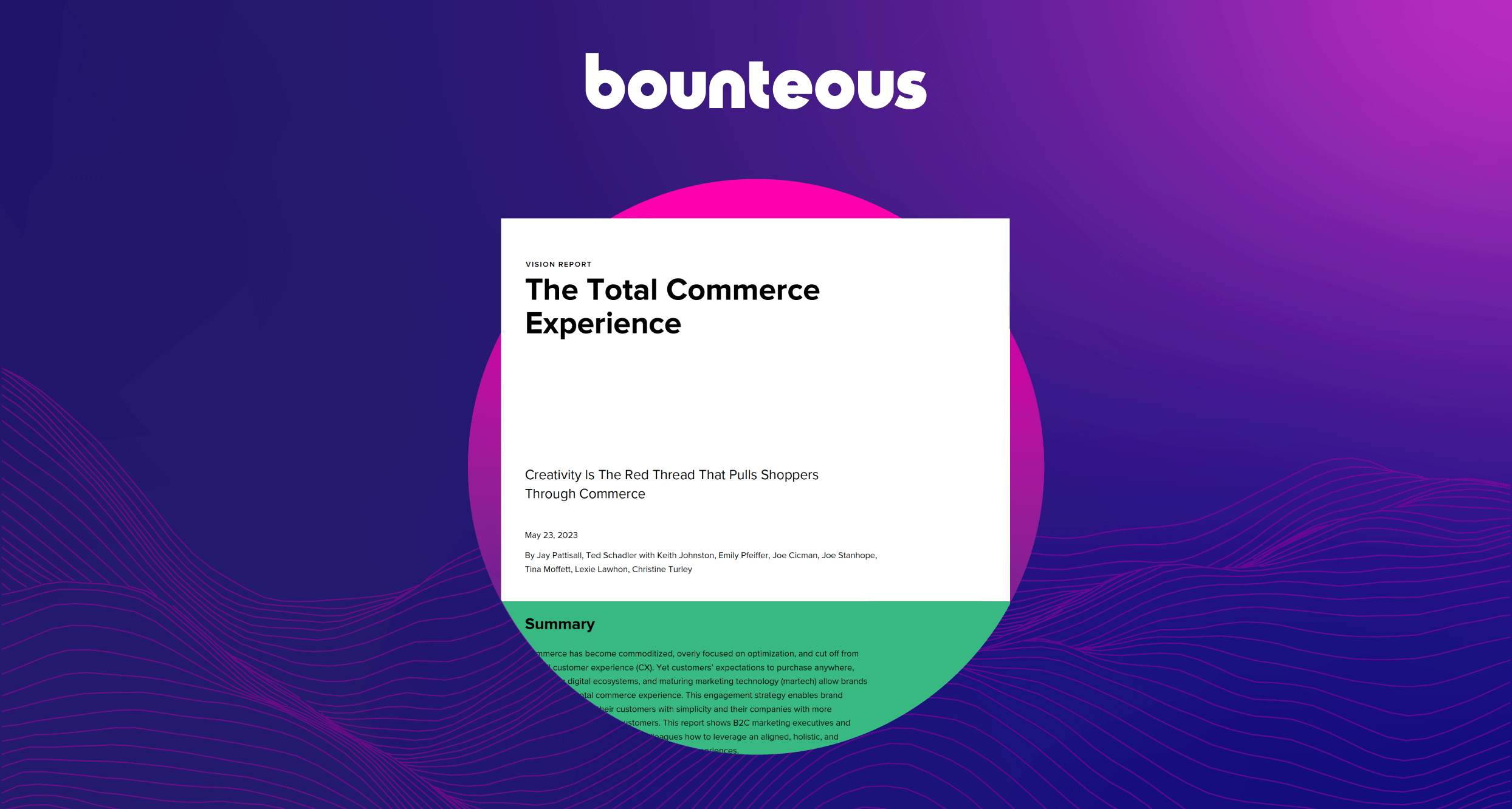 CHICAGO — June 22, 2023 — Bounteous, the digital innovation partner of the world's most ambitious brands, was recently included in a Forrester Research report titled "The Total Commerce Experience." The report guides B2C marketing executives and their colleagues in tech, operations, and CX on leveraging a holistic and creative approach to deliver profitable and satisfying commerce experiences that meet customers' expectations in an expanding digital landscape.
The research highlights the importance of a total commerce experience that integrates channels, content, and opportunity moments to meet customer needs throughout their path to purchase. It emphasizes the need for brands to move away from a commoditized and optimized approach to commerce and instead focus on creativity, collaboration, and alignment across all levels of marketing, technology, and operations.
John Telford, Executive Vice President of Growth at Bounteous, was quoted in the section "Bring Three Journey-Spanning Investments To The Fore." He emphasized that "the objective isn't the data; it's the reaction to the experience." To deliver optimized commerce experiences, companies must blend content, data signals, and technology.
The report also included Bounteous among providers able to help integrate systems into an experience architecture centered around customer flows. Bounteous delivers comprehensive commerce experiences on major platforms like Adobe, Salesforce, and Shopify. By integrating commerce platforms, martech, and data sources, Bounteous can deliver targeted offers and messaging for specific buyer flows.
"We are thrilled and honored to be mentioned in a Forrester report," said Jon Reily, SVP, Commerce Center of Excellence at Bounteous. "Creating delightful digital commerce experiences requires the right blend of data, tech, talent, and methods. We believe this recognition validates our mission to be the Commerce Co-innovation partner of leading organizations by planning, implementing, executing, and iterating the profitable growth of their digital commerce and loyalty business."
The report is available online to Forrester customers or for purchase here.
About Bounteous
Founded in 2003 in Chicago, Bounteous is a leading digital experience consultancy that co-innovates with the world's most ambitious brands to create transformative digital experiences. With services in Strategy, Experience Design, Technology, Analytics and Insight, and Marketing, Bounteous elevates brand experiences and drives superior client outcomes. For more information, please visit www.bounteous.com. For more information about Co-Innovation, download the Co-Innovation Manifesto at co-innovation.com.
For the most up-to-date news, follow Bounteous on Twitter, LinkedIn, Facebook, and Instagram.