Press Release: Bounteous Achieves Acquia DXP Practice Certification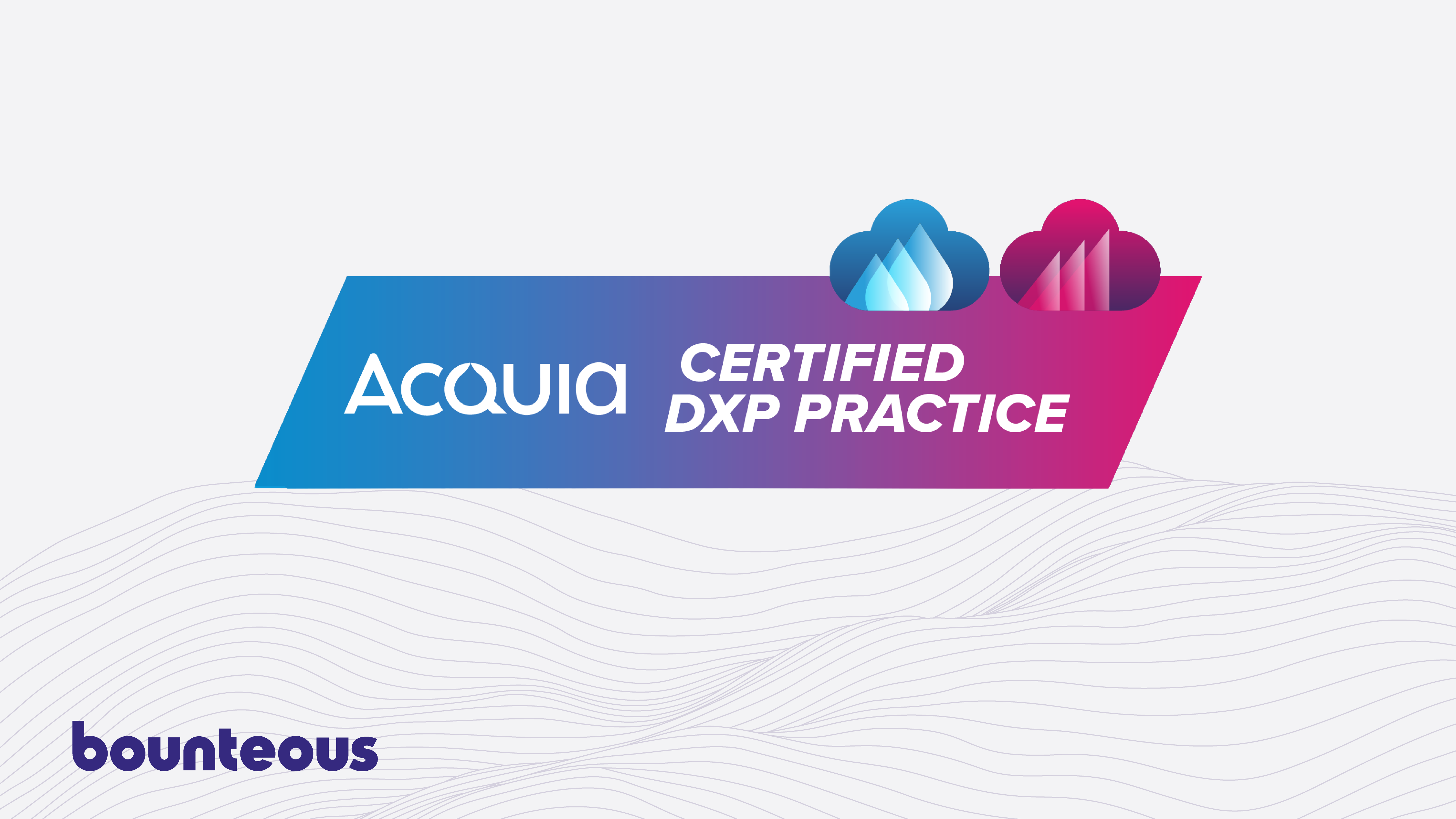 CHICAGO — November 3, 2022 — Bounteous, the digital innovation partner of the world's most ambitious brands, is proud to announce its designation as an Acquia Certified DXP Practice. The award is granted to partners who demonstrate the highest levels of technical competence across all Acquia's technologies, including Drupal Cloud and Marketing Cloud.
"We are thrilled to be accredited with Acquia's highest level of practice certification and look forward to continued Co-innovation alongside Acquia," said Megan Donahue, SVP of Business Development at Bounteous. "We are extremely proud of achieving DXP Practice Certification as an Acquia partner because it confirms our expertise in building complete digital solutions for our clients and proves our mastery of Acquia technologies."
To earn DXP Practice Certification, partners must achieve certification in both Drupal Cloud and Marketing Cloud. Each designation requires a core team of Acquia-certified developers, significant hands-on experience delivering Acquia products to clients, and a rigorous company review with Acquia partner specialists.
As a Certified DXP Practice, Bounteous receives the benefits of a deeper working relationship with Acquia, and heightened visibility as a trusted technical partner. The certification as a DXP Practice underscores Bounteous' expertise as a technical solution provider and helps customers realize the tremendous value of working with Acquia.
"We're proud to recognize Bounteous, as a certified Drupal Cloud, Marketing Cloud and DXP practice," said Mark Royko, Director of Practice Development at Acquia. "By achieving DXP certification, we know we can count on partners like Bounteous to help deliver on the world's only Open DXP."
As an Acquia Global Partner, Bounteous has specialization and expertise across all of Acquia's product offerings and a proven record of delivering transformative business experiences using both Marketing and Drupal Cloud.
The Acquia Practice Certification Program rewards partners who demonstrate a mastery of Acquia's Cloud Platform in three separate areas: Drupal Cloud, Marketing Cloud and DXP. These certifications are awarded to organizations with a proven record of technical achievement, and a commitment to driving transformative business engagements on the Acquia Platform.
To learn more about Acquia's Practice Certification Program, please visit https://www.acquia.com/partners/practice-certification-program.
About Acquia
Acquia empowers the world's most ambitious brands to create digital customer experiences that matter. With open source Drupal at its core, the Acquia Open DXP enables marketers, developers and IT operations teams at thousands of global organizations to rapidly compose and deploy digital products and services that engage customers, enhance conversions and help businesses grow their digital presence.
About Bounteous
Founded in 2003 in Chicago, Bounteous is a leading digital experience consultancy that co-innovates with the world's most ambitious brands to create transformative digital experiences. With services in Strategy, Experience Design, Technology, Analytics, and Marketing, Bounteous elevates brand experiences and drives superior client outcomes. For more information, please visit www.bounteous.com. For more information about co-innovation, download the Co-Innovation Manifesto at co-innovation.com.
For the most up-to-date news, follow Bounteous on Twitter, LinkedIn, Facebook, and Instagram.