Press Release: Bounteous Named a Finalist in the 2022 Acquia Engage Awards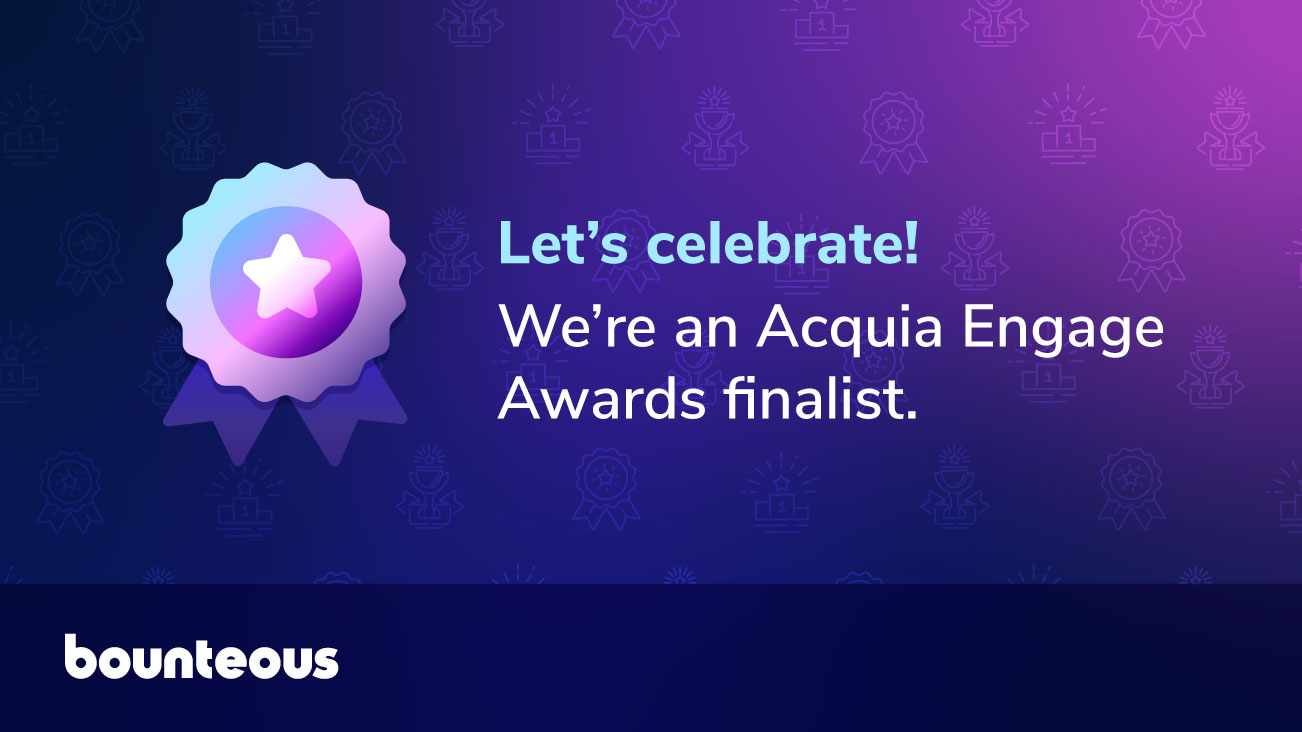 CHICAGO — September 22, 2022 — Bounteous, the digital innovation partner of the world's most ambitious brands, is named a finalist in the 2022 Acquia Engage Awards. Being named a finalist shows Bounteous' commitment to being the very best at what we do and delivering exceptional client outcomes. It's proof positive that we're on track toward our goals.
Every year, the Acquia Engage Awards celebrate the very best work done using the Acquia platform and Acquia products. The awards showcase organizations that have gone above and beyond to create the world's most ambitious digital projects. This year's Engage Awards drew a record number of submissions, with over 120 entries, spanning a variety of industries and regions. Contenders submit entries for a specific award in one of three categories. Bounteous submitted an entry for the Reimagining Customer Experience award in the Doers category.
A panel of distinguished judges with trusted expertise in DXP and digital marketing carefully reviews every Engage Award submission, evaluating them across 4 criteria: on functionality, integration, performance, and overall user experience. The judges select just three finalists per Category.
Our submission told the story of how we reimagined Shake Shack's front door. In a post-COVID world, it was important that we ensured the Shake Shack digital experience was just as inviting and seamless as the in-Shack experience. Shake Shack previously had an outdated web experience that made ordering online disjointed. Bounteous helped Shake Shack streamline their digital experience between app and website ordering and broke down barriers to accelerate Shake Shack's digital sales. Jeff Schurgin, VP, Client Service at Bounteous said, "The Bounteous and Shake Shack co-innovation partnership was key to delivering a digital experience on-par with the superior in-Shack experience while allowing the necessary flexibility to pivot to new initiatives, including curbside and delivery, during the uncertain times of COVID-19."
Of course, we think this is a big deal. But you don't have to take our word for it. As Mike Sullivan, President and CEO of Acquia explains, "Every year, we see higher levels of innovation, creativity, and dedication in Engage Awards submissions. Our 2022 finalists are truly our most outstanding yet. Being named a finalist is an incredible accomplishment, and every organization represented on the list is truly among the very best at what they do."
We're proud of everyone at Bounteous for their hard work and their accomplishments. Being named an Engage Awards finalist is welcomed recognition. While we can't predict whether we'll make the winners' list or not, we can say that it truly is an honor to be nominated.
About Bounteous
Founded in 2003 in Chicago, Bounteous is a leading digital experience consultancy that co-innovates with the world's most ambitious brands to create transformative digital experiences. With services in Strategy, Experience Design, Technology, Analytics, and Marketing, Bounteous elevates brand experiences and drives superior client outcomes. For more information, please visit www.bounteous.com. For more information about co-innovation, download the Co-Innovation Manifesto at co-innovation.com.
For the most up-to-date news, follow Bounteous on Twitter, LinkedIn, Facebook, and Instagram.
About Acquia
Acquia empowers the world's most ambitious brands to create digital customer experiences that matter. With open source Drupal at its core, the Acquia Digital Experience Platform (DXP) enables marketers, developers and IT operations teams at thousands of global organizations to rapidly compose and deploy digital products and services that engage customers, enhance conversions and help businesses stand out. Learn more at https://acquia.com.