Adobe Campaign Standard Considerations For Successful Campaign Activation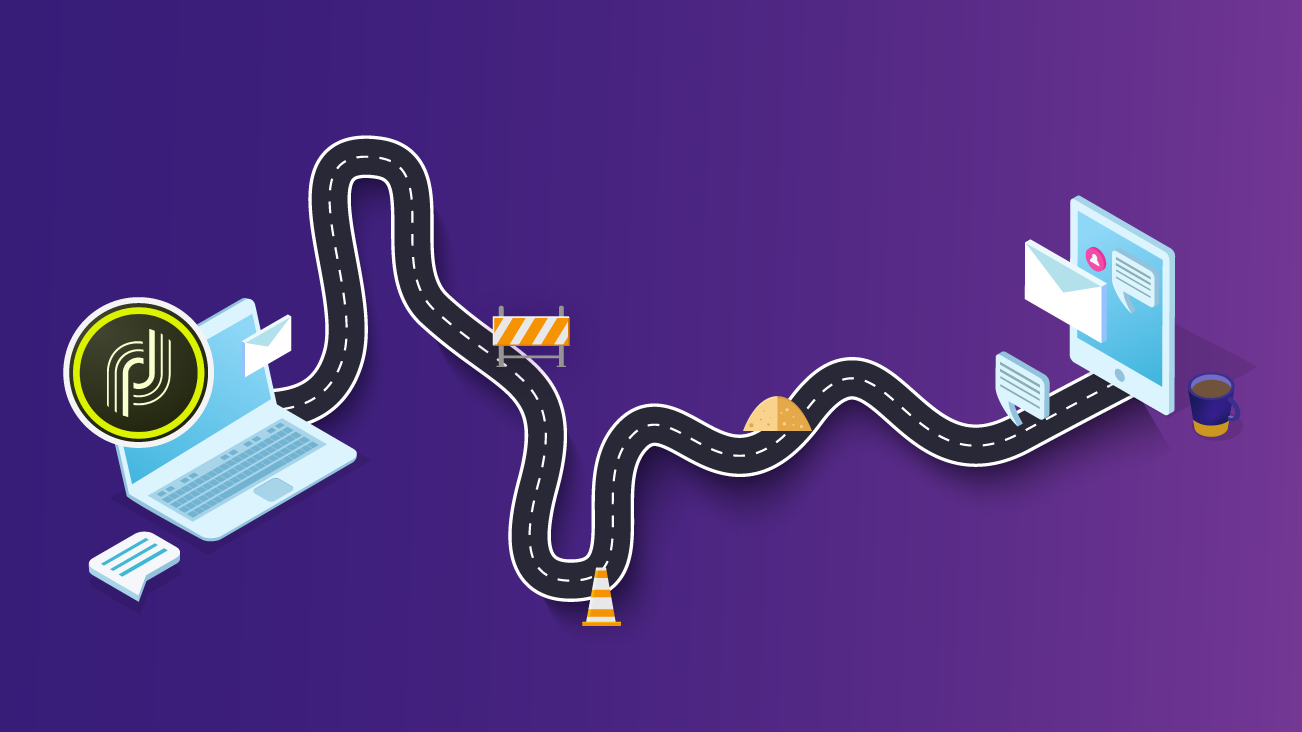 We've worked with many clients over the years to implement and operate Adobe Campaign Standard. Throughout those engagements, we've overcome challenges and roadblocks within the system to build successful campaign activation strategies across platforms.
From these experiences, we've identified a number of considerations to keep in mind as companies plan for new Adobe Campaign Standard implementations, or expansion of tool capabilities leveraging other platforms in the Adobe stack.
Below we expand on four items to consider when enabling the tool and our advice for avoiding common roadblocks and getting the most value out of your Adobe platform investments.
Adobe Campaign Standard Resource Planning
Although Adobe Campaign Standard (ACS) is the more marketer-friendly version of Adobe Campaign, in most cases, it cannot be fully managed by marketers. There are still several functions best managed by personnel with developer skillsets (namely, XML, SQL, HTML, and API skills).
It's true that many functions within the platform can be completed by marketers using the baked-in wizards and WYSIWYG designer tools. However, if your organization is farther along the digital maturity curve managing complex data sets, personalized offers, and dynamic content across touchpoints, marketers will inevitably run up against some nuances and needs that can be addressed within the tool by a savvy developer.
For example, migrating XML packages across staging and production instances, updating the ACS data model configuration, bringing in additional data in workflows to support advanced dynamic content and personalization, or developing API integrations to trigger off transactional messages.
To get the most out of your ACS investment, plan on involving your networking, IT, and database admin teams throughout initial platform implementation, and keep these resources engaged for ongoing support to manage the types of items noted above.
It's important to maintain immediate access to development resources to avoid potential campaign delays that impact the bottom line. Perform the following skillset assessment to identify where gaps on your team may exist, and develop a plan to involve the necessary resources, long-term.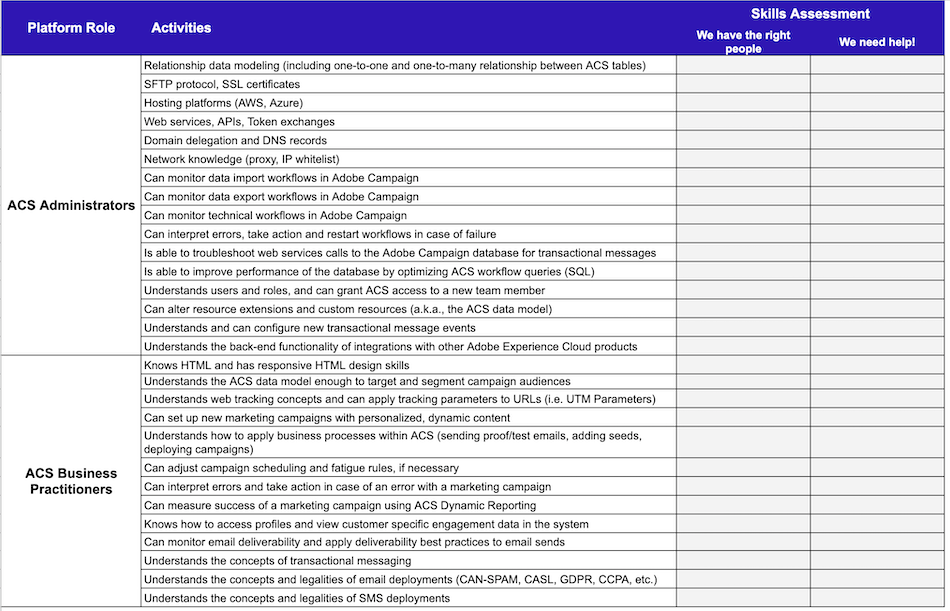 Save a Copy of Our ACS Skillset Assessment
Campaign Analysis and Integration with Adobe Analytics
Not all Adobe Campaign metrics and KPIs are available in Adobe Analytics via the out-of-the-box Experience Cloud integration. Only a subset of attributes are passed from Adobe Campaign to Adobe Analytics, and it's all aggregated at the campaign and delivery level.
The available dimensions include:
Campaign ID
Campaign Label
Delivery ID
Delivery Label
The available metrics include:
Sent
Opened
Clicked
Delivered
Unique Opens
Unique Clicks
Unsubscribed
Total Bounces
These dimensions and metrics are nice value-adds to see alongside web engagement in Adobe Analytics, but don't provide a comprehensive and detailed view of end-to-end campaign reporting as some marketers might expect.
To get a fuller view of campaign metrics and KPIs, marketers will need to access Dynamic Reports within ACS. Dynamic Reports in ACS mimic the look and functionality of the Adobe Analytics Analysis Workspace, but allow you to look at campaign-specific reporting.
Dynamic Reports can also be filtered and spliced on custom profile dimensions specific to your business. This will require a platform admin (see Resource Planning) to extend the ACS sending logs with the custom profile attributes that reports will be filtered on, but is not hard to do.
An alternate option is to work with database admin teams to extract the ACS Delivery and Tracking Logs to an external database for further analysis and rendering in data visualization or business intelligence tools, like PowerBI or Tableau. For more information on extracting data from ACS, see our blog post with step-by-step instructions.
Content Integration with Adobe Experience Manager Assets
Adobe Experience Manager (AEM) Assets can be integrated with Adobe Campaign to streamline asset management across platforms. However, this is not a pre-configured, direct integration as we find some users expect. This integration is technically a three-part hop from AEM Assets > Adobe Experience Cloud Assets Core Service > Adobe Campaign, so there is a little work required and some best practices to follow when configuring the connection.
Assets must first be shared from AEM Assets to the Adobe Experience Cloud Assets Core Service before they can be accessed from within Adobe Campaign. While conceptually not a big deal, this does create some dependencies to using AEM Assets in Adobe Campaign. Here are the steps needed:
1. An application and credential must be created in AEM Experience Cloud.
2. This application needs read, write, sync, and share permissions on the Digital Asset Manager (DAM).
3. The AEM instance must consume the credential via a Cloud Service Configuration.
4. Assets need to be categorized into discrete folders according to business rules.
5. At this point, an option to share/sync any folder will appear in the DAM.
6. When enabled, all assets placed in the folder are immediately sent to Experience Cloud and ACS can now consume assets from Experience Cloud.
As of the time of writing this blog, there is also a permission dependency on the ACS side, as only ACS Admin users are able to access Experience Cloud assets for email development. Thus, the final step for addressing dependencies requires an ACS platform admin to visit the Admin Console and assign administrative rights to all users who will be building emails in ACS.
To ensure successful integration, we recommend conducting joint meetings between creative and campaign teams to align on technical and business processes that sync assets to Experience Cloud. Finite business rules must be established to identify which assets should be regularly placed in the shared folder and synced to Adobe Experience Cloud for use in email.
We also recommend the below best practices for generating assets to be shared with ACS:
Image assets should remain at the highest resolution available, even if that resolution is larger than the available area of the email. For example, having a 1,000px wide image used as a hero for an email that's only 600px wide is just fine.
Optimize images for file size, and not email dimensions. The general rule of thumb we use is that an email image should be no more than 1MB in size, ideally between (or less than) 500kB-1MB. This file size limit will optimize load times and mitigate email recipient assumptions that images are broken or missing, which could lead to an overall decline in email performance metrics.
Having images that are larger in dimensions than the available space (while respecting the file size limit) will mean they look great on any device, and will give those images a longer shelf life, since they won't need to be replaced as device resolutions improve and increase over time.
SMS Channel Activation
When you license SMS as a channel through Adobe, you essentially get the easy-to-use, front-end interface in ACS to target your SMS recipients, create the SMS message content, and orchestrate your SMS sends alongside other channels. You MUST, however, still contract with an SMS service provider outside of Adobe in order to deliver the SMS messages to mobile phones across cellular networks.
Any SMS service provider that offers bulk SMS sending will suffice, but the most seamless integration with ACS will take place with a provider that supports the SMPP 3.4 protocol. Providers that don't support SMPP 3.4 protocol can often still be integrated with Adobe Campaign, but will require custom development or middleware, and full ACS tool functionality may not be available for SMS campaign development and reporting.
As companies prepare to integrate SMS as a channel, there are several items to consider.
Overall Project Budget
We recommend budgeting for the licensing and integration cost of a separate SMS service provider, as an additional expense outside of ACS licensing costs.
Integration Complexity
Be sure to vet each SMS vendor's capabilities and carefully weigh the pros and cons of using a vendor who supports the SMPP 3.4 protocol versus one that doesn't. Vendors that support the SMPP 3.4 protocol will require less level of effort to integrate, but may also provide a less robust feature set.
For example, if you're planning to use MMS, you won't be able to do so from ACS without a custom SMS vendor integration.
Activation Timelines
It's important to be aware that SMS activation comes with a long ramp-up time when establishing a new shortcode. This process involves defining some high-level plans and terms of use for your SMS program, submitting a shortcode application with those details through your SMS provider, and awaiting shortcode approvals from each wireless carrier.
This process can take anywhere from 6-12 weeks. Make sure to account for this lengthy ramp-up when setting timing and ROI expectations with key stakeholders within your business.
Communications Planning
Marketers will need to carve out dedicated time to strategize specific SMS use-cases, content, and communication cadences. These activities are particularly important when activating new channels, as communications planning must now consider cross-channel orchestration across the entire customer journey.
For some companies, this necessitates changes in process to define new ways to strategize marketing campaigns, develop content, and generate or approve campaign offers. Defining specific communication needs and getting ahead of required process changes is a smart way to utilize the 6-12 week wait time throughout shortcode provisioning.
The Path to Adobe Campaign Standard Success
Throughout our client work, we've found many of the items we've discussed in this article to be roadblocks during campaign activation—sometimes bringing projects to a screeching halt while awaiting additional project funding or identifying new ways of working across teams.
But, it doesn't have to be that way! Following the advice we've noted above will allow for proper budgeting, planning, resource allocation, and expectation setting amongst key stakeholders and position companies to get the most value out of their Adobe platform investments.