Press Release: Bounteous Named Acquia Marketing Innovation Partner of the Year for 2020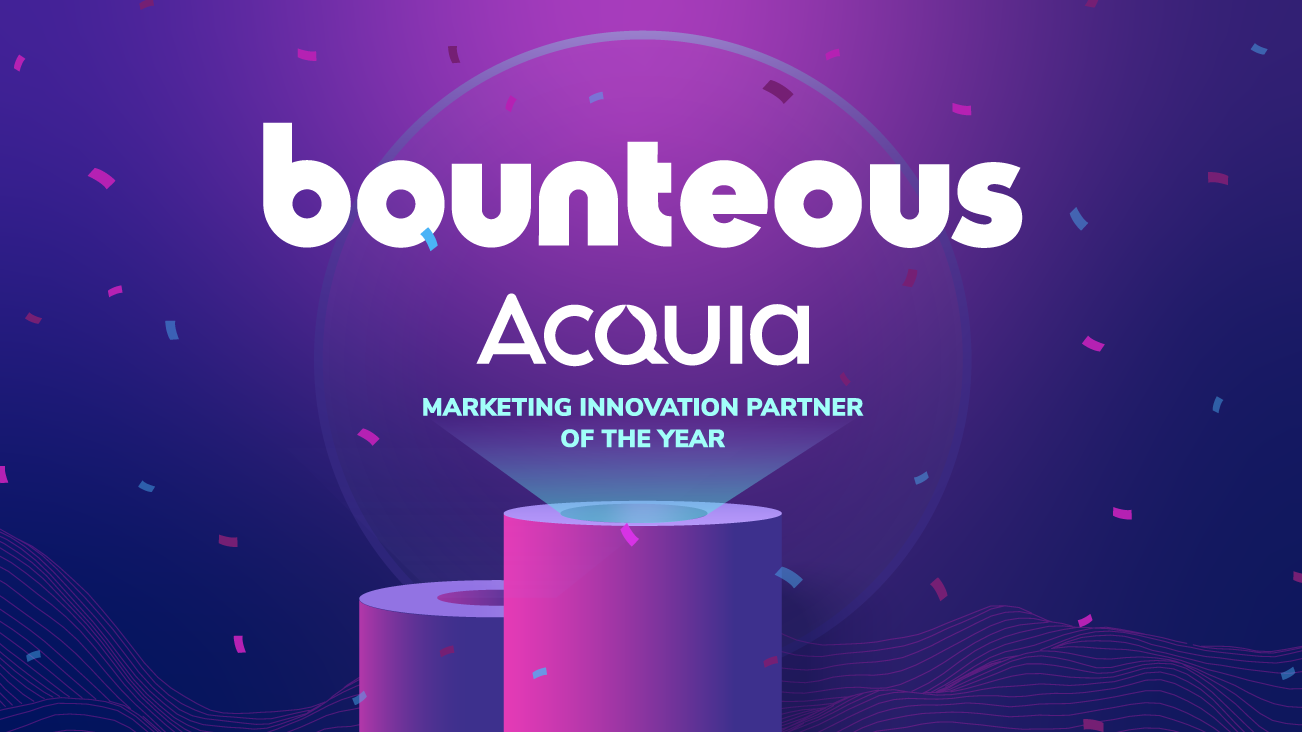 Recognized based on collaborative initiatives driving business value
CHICAGO – FEBRUARY 24, 2021 – Bounteous, a leading digital experience consultancy, today announced it has been selected as an Acquia Marketing Innovation Partner of the Year for 2020. Bounteous is being honored for its superlative performance during the past year in business growth.
Through strategic marketing initiatives in partnership with Acquia, Bounteous fostered new business opportunities and strengthened existing relationships, demonstrating both a technical mastery of Acquia's products and a commitment to driving business value.
Bounteous joined Acquia throughout the year to host webinars and workshops on personalization and marketing excellence as well as providing guidance and leadership to clients and the industry throughout the COVID-19 pandemic. In addition, Bounteous co-innovated with Acquia to improve customization and documentation around Acquia Personalization, developing playbooks, and building thought leadership.
"2020 was another great year for our partnership with Acquia. As we celebrated huge client successes, we eagerly shared those stories and insights with others," said Seth Dobbs, CTO of Bounteous, who shared two of those stories during a panel discussion, Pulling It Off: How Category Leaders Innovate Rapidly, with clients Mars Wrigley and Shake Shack at Acquia Engage. "We are thankful for this recognition of Marketing Innovation Partner of the Year and for our continued growth with Acquia."
Bounteous is an Acquia Gold Level Partner and is one of the most accredited organizations with 15 Drupal Grand Master certifications and more than 100 developer certifications. As exemplified in award-winning client programs, Bounteous truly knows how to help their clients realize value through the Acquia Open Digital Experience Platform.
Acquia recognized 15 partners across four global regions based on overall revenue performance, growth with Acquia's Open Digital Experience Platform (DXP), number of new customers secured last year, and excellence with Acquia's products. There are several new categories this year, two of which focus on giving back: Top Partner Drupal Contributor and Tech for Good Partner of the Year.
"Congratulations to Bounteous who went above and beyond in a difficult year to deliver substantial value to our joint customers," said Peter Ford, VP of global channels, partners, and alliances at Acquia. "We look forward to continuing our partnership with Bounteous to create a new standard of customer experience by leveraging Acquia's Open DXP and the expertise of our partner ecosystem."
Bounteous has paved the way in the industry as the first Acquia Personalization Solutions Partner and continues to power more effective digital experiences across the entire customer journey. As part of Acquia's Partner Advisory Board, Bounteous invests heavily in beta testing to help advance products with Acquia and ensure their teams are at the forefront of industry trends and solution offerings. Most recently, Bounteous has been supporting the Acquia team developing playbooks and demos for Personalization, CDP, and Site Studio.
Acquia's partners have always been at the forefront of the world's most ambitious digital experiences including more than 600 of the leading digital agencies, systems integrators, and Drupal development companies across global markets, including the Americas, EMEA, and Asia. A full list of Acquia Partner Award winners can be seen here.
About Bounteous
Founded in 2003 in Chicago, Bounteous is a leading digital experience consultancy that co-innovates with the world's most ambitious brands to create transformative digital experiences. With services in Strategy, Experience Design, Technology, Analytics and Insight, and Marketing, Bounteous elevates brand experiences through technology partnerships and unparalleled platform expertise. For more information, please visit www.bounteous.com. For more information about co-innovation, download the Co-Innovation Manifesto at co-innovation.com.
For the most up-to-date news, follow Bounteous on Twitter, LinkedIn, Facebook, and Instagram.
About Acquia
Acquia is the open digital experience platform that enables organizations to build, host, analyze and communicate with their customers at scale through websites and digital applications. As the trusted open source leader, we use adaptive intelligence to produce better business outcomes for CX leaders.